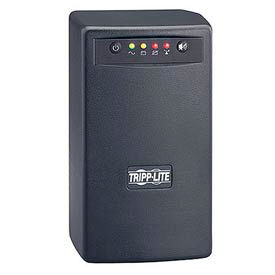 Tripp Lite Smart USB UPS Systems
Tripp Lite Smart USB UPS Systems Offer Reliable Battery Power To Keep Systems Running Through Short Blackouts.

Smart USB systems can be mounted in either vertical or horizontal position using an adjustable LCD display. Automatic Voltage Regulation keeps equipment working through low voltage brownouts without losing power. UPS system protects computers from damage on a DSL, Ethernet or coaxial line. Battery supported and surge-protected receptacles offer reliable battery support for computers and monitors during a blackout. Surge-only protected outlets offer surge suppression for printers and peripherals. LCD display shows incoming power conditions in real time. Helps monitor input voltage, battery and load status at a glance. LCD display features a dimmer switch. UL listed.