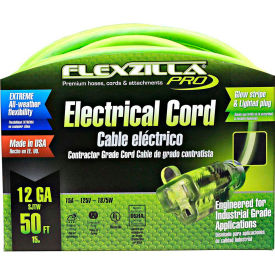 All Weather & Extreme Temperature Extension Cords
All Weather and Extreme Temperature Extension Cords Provide Long Distance Power for Construction Sites, Industrial Plants, Agricultural Facilities, and more.

These extension cords are made of high quality materials for long lasting durability and corrosion resistance. Cords provide ergonomic power access for outdoor and low temperature work environments. External jacket ensures unit flexibility while preventing damage and breakage. Units accommodate snow blowers, engine heaters, battery chargers, and more. Available in bright color finishes for high visibility in cluttered working environments. Cord feet length range from 2 to 100. Gauges range from 12/3 to 16. Amps are 10, 13, and 15. Receptacles are 1, 3, and Multi. Cord jackets are SJEOOW AND SJEOW. Dimensions and temperatures vary per model.