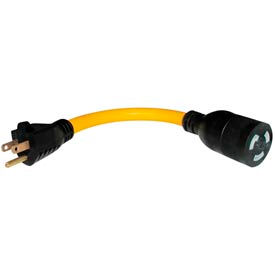 Twist-To-Lock Generator Cords & Adapters
Twist-To-Lock Generator Cords and Adapters Provide Convenient Power Access for Construction, Maintenance, Repair, and Other Related Applications.

These cords and adapters are molded with heavy duty materials for long lasting durability and to provide portable power as needed. Twistlock blades and grounding pins prevent plug from disengaging with outlet. Available styles are U-Ground Twist-to-Lock, Twist-to-Lock Converter Adapter, Triple Tap Generator Cord, Extension Cord and 1' Adapter. Cord lengths of 1', 5', 15' and 25'. Gauges are 10 or 12. Available with 1 or 3 receptacles. Sold in different package quantities.