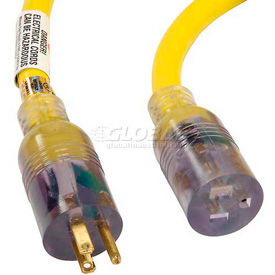 Single Outlet Lighted End Extension Cords
Single Outlet Lighted End Extension Cords Visually Designate Status Power When Circuit Is On.

Single outlet lighted end extension cords feature lighted ends to provide high visibility for safer working conditions underfoot. Select models feature an indicator light for active power status. Lighted Ends Extension Cords are durably made for lasting dependability. Most cords provide continuous current and ground monitoring for OSHA Safety requirements. Available Cord Lengths range up to 100 feet. Wire Gauges are 10, 12, 14, and 16. Amps available are 10, 13, 15 and voltage is 125 for all.