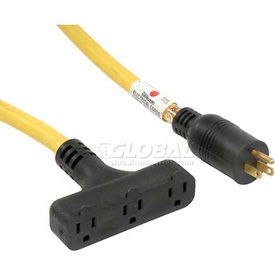 Indoor/Outdoor Extension Cords - Multi Outlet
Indoor/Outdoor Extension Cords - Multi Outlets Provide Convenient Power Access for Construction Sites, Repair Jobs, Landscapers, and more.

Indoor/Outdoor extension cords - multi outlets are suitable for a variety of outdoor areas. Cord units feature Multiple Receptacles which provide extra power outlets for tools, devices, and more. Cord Sets are double insulated with individually insulated conductors which are surrounded by an outside jacket with solid molded plugs to provide long lasting durability and user protection. Most units are 125V with tri-taps. Outer jacket will not mar floors or walls and is resistant to abrasion and deterioration from moisture and sunlight. Cord lengths range from up to 100 feet. Wire Gauges are 12, 14, and 16. Amps are 13 and 15.