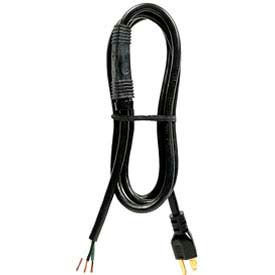 Power Supply Replacement Cords
Power Supply Replacement Cords Allow Long Range Power Accessibility for Automotive Garages, Warehouses, Industrial Plants, and more.

These replacement cords are made of premium grade, color coded PVC for long lasting durability. Models feature a cord that is 3-conductor grounded and stripped 5/8" with a free-end slit of 1-1/2".Varied Applications: Receptacle only; Right-Angle plug; Single Switch; 3-way Switch. Gauges: 12, 16 & 18 ; Volts:125; Amps 10, 13 or 15. Cord Jackets: SJ, SJT, SPT-1, SPT-3, SJOW, SJOOW. Lengths: 3, 6, 8, 9, 10, & 12 feet. Colors: Black, Gray. UL Listed.