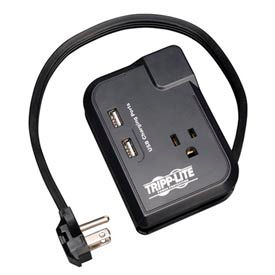 Traveler Surge Suppressors
Traveler Surge Suppressors Feature A Compact Design That's Great For Fitting In Briefcases, Suitcases And Bags.

Take your surge suppressor to go with these travel size surge suppressors. Made using heavy duty all-metal and flame-retardant plastic housing that's built to last. TRAVELERC6 & C8 place AC line surge protection between your notebook computer's power adapter and the power cord leading to the wall outlet. Operates on any voltage worldwide. TRAVELCUBE provides all the power protection of a large surge strip in a compact, direct plug-in design. Lifetime Limited Warranty.