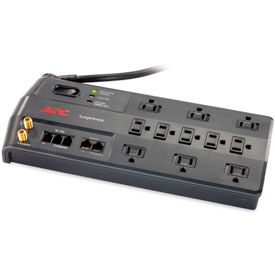 Data Line Surge Protectors
Data Line Surge Protectors Are Used For Protecting Electronics And Data Lines From Damaging Surges.

Each surge protector provides strong surge protection for electronics and data lines. Protection of data lines (Ethernet, Coaxial, USB and Phone lines) ensures complete protection of your equipment from surges. It is very important to protect your equipment from "back door" electric surges traveling through data lines, as they can be as damaging to your equipment as surges traveling over power lines. Noise Filtering attenuates EMI/RFI line noise that can cause data errors and keyboard lockups, ensuring better performance of protected equipment. Choose from different or a combination of Data Lines Protected: RJ11 - Protects Phone, Fax & Modem Lines. RJ45 - Protects Ethernet Lines. Coax Protects Coaxial Lines for Video. USB - Protects equipment connected to USB ports. Joules indicate the measure of surge suppression allowed per protector. Many Brands, Number of Receptacles and Cord Lengths to choose.