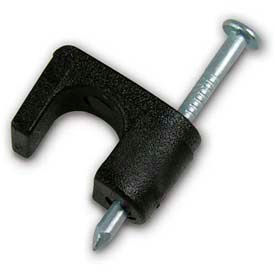 Cable Staples, Masonry
Gardner Bender Masonry Cable Staples Are Designed To Penetrate Cement Block, Mortar And Plaster Surfaces.

Gardner Bender Masonry Cable Staples feature hardened nails with UV-resistant polyethylene saddles that prevent rot and deterioration. They are 1/4" in size and secure RG-59 and RG-6 coaxial cables. Clip-on and double clip-on models are available, which can hold multiple wires. Data Staples-Masonry have a similar construction, but are designed to secure and protect RJ-11, RJ-12, RJ-45, Category 3 and Category 5 wire. 1/2" Plastic Masonry Staples are designed to secure Romex®, UF and other type-NM cable. 2 zinc plated nails drive in together for fast and easy installation. Nail heads are recessed for minimum exposure and smooth saddles prevent damage to cable insulation. White coloring allows for easy identification.