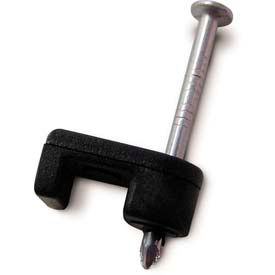 Low Voltage Plastic Staples
Gardner Bender Low Voltage Plastic Staples Are Used For Securing Bell, Speaker, Thermostat and Telephone Wire.

Gardner Bender Low Voltage Plastic Staples feature zinc-plated nails that resist rust and corrosion. UV-resistant polyethylene saddles will not rot or deteriorate. Sizes vary, including 1/8", 3/16" and 1/4". Available in black or white and are designed for indoor and outdoor use. The 1/4" Low Voltage White Plastic Staples have a similar construction, but are designed to secure RG-59 and RG-6 coaxial cables. Low Volt White Clip-On Masonry Staples have hardened nails that can penetrate cement block, mortar and plaster surfaces. 1/4" Black Coax Masonry Staples secure RG-59, RG-6 and RG-6 Quad cables to cement, block, mortar or plaster. Clip-on strap permits hands free installation. 1/4" Data Staples secure Category 3, Category 5 and other datacom wires. Staples protect wire insulation and will not rust, crack or deteriorate. Package quantities vary, ranging from 25 to 200.