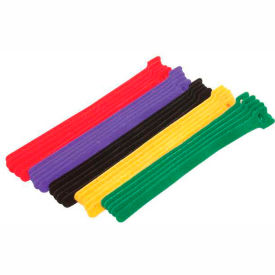 Hook and Loop Cable Ties
Hook & Loop Cable Ties Are Used For Bundling Of Data And Fiber Optic Cables.

Hook & Loop Cable Ties are made of durable nylon material for lasting dependability. Convenient for wrapping pre-determined wire bundles of 1-1/2 to 5 inches in diameter. Roll and Loop, Slotted Head and Buckle types come in various sizes and strengths depending upon particular application. Available in 1/2 and 3/4 inch widths, 6, 9, 12, 13, 18 and 180 inch lengths and 40 and 50 lb. tensile strength. Colors are Black, Blue, Brown, Gray, Green, Orange, Red, Yellow and White.