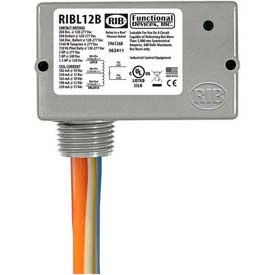 RIB® Latching Relays
RIB® Latching Relays Are Used For A Variety Of Electrical Applications.

RIB® Latching Relays are made of high quality materials for long lasting durability and dependability. Variety of types and styles available to meet job requirements. Latching Series comes prepackaged in NEMA 1 plastic enclosure with a 1/2 inch mounting nipple, LED indicator and pre-wired for money-saving, quick and easy installation. Relays activated by pulse commands from controller or momentary switch closure. Relay contacts mechanically latched in closed position and load remains on in event of control panel failure period. If power is completely lost, contacts remain in last state and load will activate upon return of normal power or emergency power. UL Listed. Types are Enclosed Latching Relay, Enclosed Latching Relay w/Aux Contact and Enclosed Latching Relay w/Switch/Aux Contact. Voltages are 12VAC/DC and 24VAC/DC. Contact types are SPDT and SPST. Dimensions vary per type. Quantity is 1. 1 Year Warranty.