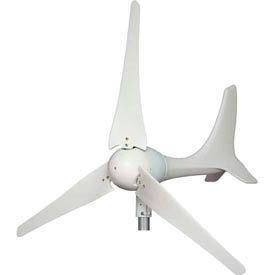 SunForce® Wind Turbines
SunForce® Wind Turbines Are Used For Energy Efficiencies In Salt Water And Marine Applications.

SunForce® Wind Turbines are made of corrosion resistant powder coated aluminum and plastic for long lasting durability. Designed for low wind speeds. Delivers 600 watts of power. Charges both 12V and 24V battery banks to provide overcharge and discharge prevention. Patented Auto-Sensing MPPT (Maximum Power Point Tracking Charge Controller). Low noise aerodynamic fiber glass blades provide low noise quotient. Easy installation. Tower Kits sold separately. Available types are Marine 12/24 V Wind Turbine and 12/24 V Wind Turbine Including 30 ft Tower. Height is 30 ft.. Colors are Grey and White.