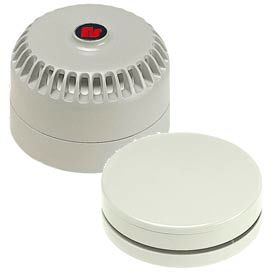 Streamline® Low Profile Mico/Mini Sounder
Federal Signal Low Profile Piezo Sounders Are Used For Commercial Or Industrial Alarm Applications.

Federal Signal Low Profile Piezo Sounders are solidly made for long lasting durability and dependability. Model LP4 is a compact multi-tone sounder used for OEM and general alarm applications. The low voltage LP4 provides a choice of 28 different tones, switch selectable during installation. Each electrical connection has two terminals for looping in and out, eliminating the need for a separate terminal block. A second tone is available if a third wire is installed and connected to the second tone terminals. Operates on a voltage range of 9-28VDC without the need for adjustment. The dB output ranges from 82-100dBa at 10 feet (92-110dBa @ 1m) depending on the tone selected. The volume control provides for 20dBa of adjustment. PLC compatible. Rugged ABS casing provides a high degree of strength and protection from the elements. Operating temperature range of -40°F to 176°f (-40°C to 80°C) allows for use in a wide range of environments. Shallow base provides for flush mount wiring, and has unique twist assembly for easy installation. Model LP5 is an economical two-wire micro unit that produces an effective audible signal for indoor applications. Operates on 9-30VDC power, and is capable of producing "Continuous", "Two-Tone", "Pulsed" and "Sweeping" tones. Each tone can function at a high or low dB level, depending upon DIP switch selection (low of 3mA to a high of 15mA). Output ranges from 76 to 87dBa @ 10' (86 to 97dBa @ 1m). ABS plastic cover is removed for easy access to dip switches and the wiring terminal block. Circuitry meets with CE approval. Operating temperature range is -13°F to 185°F (-25°C to 85°C) allowing for a wide range of applications. Works in panel or wall mount installations. Compatible with PLC and low voltage controls. 5 Year Limited Warranty.