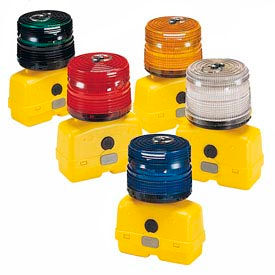 Battery Powered Warning Strobe Lights
Battery Powered Warning Strobe Lights Are Moisture-Proof and Reverse Polarity Protected For Increased Life.

These hand-held Strobe lights are used for job sites where lighting is limited. Dome covering light is made of impact-resistant polycarbonate materials and the base is constructed from a high-density polyethylene. A flexible rubber seal covers the power switch to protect it from the elements. A steel carrying handle on the top of the unit makes this warning light completely portable. Power is supplied using two standard 6-volt D, spring terminal DC batteries. (Batteries not included.) Strobe Lights include 2 magnetic pads for temporary mounting. Available in five colors. 5 Year Limited Warranty.