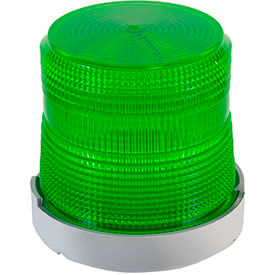 Dual Mode LED Beacon
Edwards Signaling® Dual Mode LED Beacons Are Used For Providing Steady-On Or Flashing Visual Alerts In High Noise Level Areas.

Edwards Signaling® Dual Mode LED Beacons are solidly constructed for long lasting durability and dependability. Ship from the factory in steady-on mode and can be readily transformed by changing dipswitch setting to 65 FPM flashing mode. Corrosion resistant Type 4X enclosure can be panel or conduit mounted. a polycarbonate/ABS blend and the lens is made of shatter resistant polycarbonate. -31&$176;F to 150°F operating temperature. Immune to shock and vibration. Designed for indoor or outdoor installation. Available with Red, Green, Blue or Amber lens color and 24V DC, 120V AC and 120V 50/60 Hz voltage. UL and cLU listed.