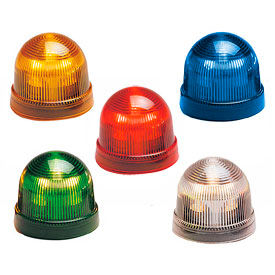 Streamline® Low Profile Light
Streamline® Low Profile Lights Are Used For Signal Lighting Applications Requiring A Compact Signal With Unparalleled Reliability.

Streamline® Low Profile Lights are constructed with a polycarbonate dome and a polyamide base enclosure with a gasket rated Type 4X for strength and long lasting durability. Steady burning incandescent light allows horizontal and vertical panel mount installation. Mounts easily through any 1.54" (39mm) diameter hole; lock nut secures light firmly in place. Gasket positioned above mounting surface assures water-tight and dust-tight fit. Lamp easily replaced from below mounting surface. Inherent strain relief secures all wiring from rear, for added durability. 6-watt incandescent lamp is included. Double-contact bayonet base (Type S-6) is standard lamp style. Lamp life approximately 1,500 hours when run on AC power. Functions in most PLC applications (including triac outputs). Colors are Amber, Blue, Clear, Green and Red. Voltages are 24 and 120. Operating current is .03. Quantity is 1. Diameter is 3". 5 Year Limited Warranty.