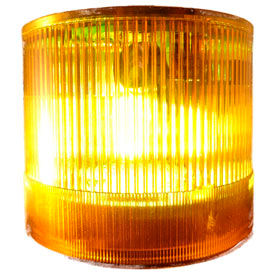 Texelco Strobe Stackable Modules
Strobe Stackable Modules Provide Clear Signal Of Machine Status In Industrial Work Areas Where Visibility Over Long Distances Is Required.

Strobe Stackable Modules are solidly constructed for long lasting durability and dependability. Polycarbonate housing with Xenon strobe bulb resists shock and vibration. Bayonet mount joins up to 7 lights to configure a job-specific signaling system. Strobe lights are available with Amber, Blue, Clear, Green, Red or Yellow. lens. Environmental rating of IP 64 for use in dusty work area. Lamp life hours, voltage and other specifications vary per model.