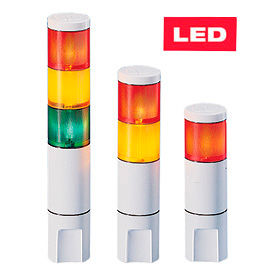 Microstat® LED Warning Indicators
Microstat® Status Indicator Is Compact Making It Used For Emergency Management Uses.

The MicroStat comes pre-assembled as 1-, 2- or 3- high light units. The user selects combinations from five colors; amber, blue, clear, green and red. O-rings between each segment provide a water-tight and dust-tight seal. The MSL1, MSL2 & MSL3 are available in 24VAC/DC, 120VAC and 240VAC. The base of each light can be surface or pipe mounted (3/4-inch NPT). The lenses lock together and snap apart with a simple twisting motion, allowing for easy lamp changes and quick lens resequencing. A rugged vibration-resistant, thick-filament wedge lamp fills each lens with light, providing excellent optical performance. Wire connections are made through a 2-piece terminal block. The MicroStat is designed to work with PLC outputs including Triacs . An optional sound module can be installed in the top position of any MicroStat. The Sound Module Kit (MSS) consists of a slotted grille and board-mounted piezoelectric horn. The sounder plugs directly into the wedge socket. UL and cUL listed. 5 Year Limited Warranty.