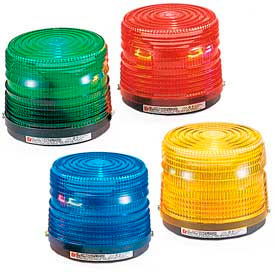 Electraflash Strobe Warning Lights
Electraflash® Warning Lights Include A Removable Strobe Mechanism.

These strobe warning lights are an economical solution to emergency readiness problems. Lights are less than six inches tall and six inches in diameter, so they can be put literally anywhere. Designed for both indoor and outdoor environments, colored dome is made of impact-resistant Fresnel. One bulb will last up to 4,000 hours. Available in 12, 24, 120 voltage models. 12 V and 24V models feature three holes for flat surface mounting, and 120 VDC model comes ready to mount on a 1/2 pipe. Available in four colors. Strobe warning lights are UL listed and CSA certified. 5 Year Limited Warranty.