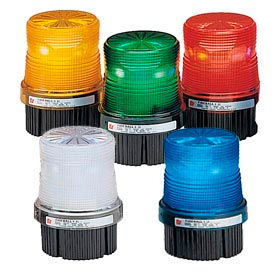 Fireball Strobe Warning Lights
Fireball® Strobe Warning Lights Are Used For All Your Vehicular Needs.

These are the most powerful lights of their size with a candela peak of 1,000,000! Great for industrial application where a vibration resistant light is required to signal an emergency or process status. These lights feature a unique, impact-resistant fresnel dome that easily twists off for quick lamp replacement. Integrated ½ pipe mount and 3-holes for surface mount applications. Black epoxy paint is electrostatically coated to the base for improved corrosion resistance. The Fireball® dome and base design is type 4x rated for being water-tight, dust-tight, and corrosion resistant. UL listed. 5 Year Limited Warranty.