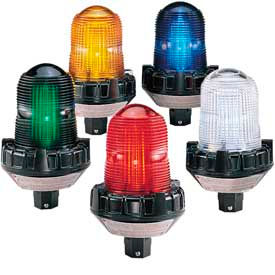 Hazardous Location Warning Lights
Hazardous Location Warning Lights Are Rugged and Durable For the Most Extreme Situations.

These strobe warning lights are Type 4X for water-tight, dust-tight and corrosion resistance. Features 10,000 hour high intensity strobe that provides 80 high intensity flashes per minute. Sure to be seen, warning lights have a peak candela of 520,000. Used for use in plant evacuation, or other emergency needs. Aluminum base is coated to prevent corrosion and is ready for mounting on 3/4 pipe. Colored dome is made of glass. Included dome guard prevents breakage from impacts. Available in five colors. UL listed and CSA certified. 5 Year Limited Warranty.