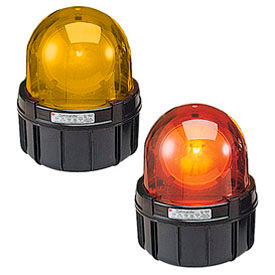 Commander Rotating Warning Lights - Wide Area
Commander® Rotating Warning Lights Have A Powerful Sealed Beam Lamp That Rotates 360°.

The polycarbonate dome on these lights is resistant to high temperatures making it used for steel mills or arc furnaces where glass would melt. Power is delivered to the lamp by a unique collector ring. The lamp is mounted to a pivoting yoke, allowing up to 90° angle mounting. Changing the angle allows unique light patterns for maximum visibility. The aluminum housing is coated with electrostatically coated black epoxy paint for extra corrosion-resistance. Available in Amber and Red. UL listed and CSA certified. 5 Year Limited Warranty.