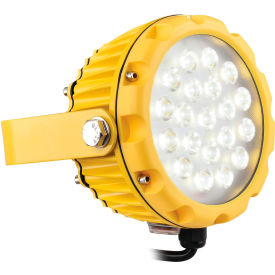 LED Loading Dock Lights
LED Loading Dock Lights Provide Convenient Lighting For Warehouses, Commercial Properties, Shipyards, and more.

Dock lights are made of steel, aluminum, and glass for years of strength and reliability. Units provide long lasting, energy efficient lighting for warehouses, cargo bays, fleets, and more. LED lighting reduces power consumption, increases longevity, and improves cost effectiveness. Unit design allows full illumination with minimal heat for increased safety and low maintenance. Acrylic or tempered glass ensures impact resistance for harsh environments. Wattages are 12, 20, 38, and 150. Lumens are 960, 1700, 1800, and 3500. Reach inches are 24, 40, 60, and Head Only. Color is Yellow. Dimensions vary per model.