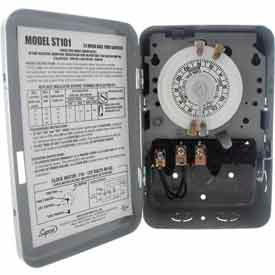 Supco® General Purpose Timer Switches
Supco® General Purpose Timer Switches Offer Economical Electro-Mechanical Switching Of Electric Loads For Single & Double Pole Applications.

Used for pool filter pumps and heaters, indoor and outdoor lighting, sprinkler systems, greenhouse lighting & ventilation and off-cycle defrost applications. Steel case enclosure measures 8" x 5-1/3" x 3". Offers a temperature range of -22°F to 158°F. 24-hour dial includes 2 ON and 2 Off trippers. Features a switch rating of 40 amps resistive or tungsten, 1,000 VA pilot duty, 2 HP at 120V and 5 HP at 240V. Allows up to 10 On/Off operations per 24 hours. Includes manual On/Off switch for hand operation without disturbing the scheduled setting. Steel enclosure is non-corrosive NEMA 1 certified. UL listed.