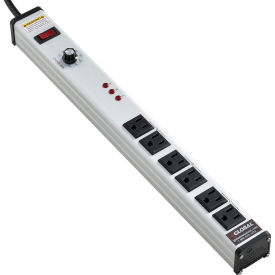 Power Strips with Cycle Timer
Global Industrial™ 18-in. 6 Outlet Aluminum 3-Way Cycle Timer Power Strip, 15' Cord

The Global 3-way cycle timer provides timed intervals for 3 different cycles. The timer prevents overload by alternating power between the three power units or six power strips in the charging cart, providing charging to multiple laptops or devices during the day. The power units plug into the outlets labeled A, B, or C.

The timer control can be adjusted and set every 15 to 240 minutes. Once the timer is set, it then controls the amount of time the power unit will be "hot" before the timer switches to the other power unit. 15 minutes can be used as the default setting, however the time setting should depend on laptop size, battery capacity, frequency of use and the time available for charging between uses. Low minute settings should be used if the laptops are being used more frequently.

Once you set the timer control to the desired cycling increment, after the side A time expires, the timer will activate side B for the same period of time. After the side B time expires, the timer will activate side C for the same period of time. This cycle will continue until the ON/OFF switch is set to the OFF position.