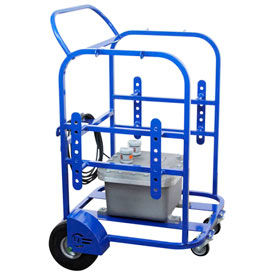 Explosion Proof Portable Transformers
Explosion Proof Portable Transformers Deliver Safe Portable Power To Hazardous Work Areas.

Explosion Proof Portable Transformers are designed to breakdown electrical currents so operations can safely tap into and distribute power from a variety of sources including generators and direct grid power. Transformer includes explosion proof receptacles with twist lock operation to provide to provide protection against sparking in hazardous environments. Power distribution system is mounted to a wheeled non-sparking aluminum frame for lasting protection and portability. SOOW primary power cord is 25 feet long. Choose 120V or 240V transformers to meet power step down requirements. Class 1 Division 1 Explosion Proof; 2023, Class 1, Division. 1 Receptacles rated.