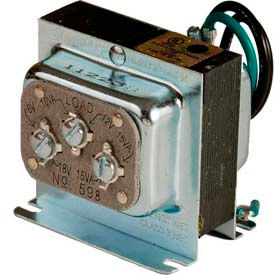 Edwards Signaling® Class 2 Transformer
Edwards Signaling® Class 2 Transformers Are Used For Residential, Commercial And Industrial Applications

Edwards Signaling® Class 2 Transformers are solidly made for long lasting durability and dependability. Easy to install, low voltage power source. Have non-regenerative thermal overload protection, grounding wires, pre-stripped pigtails and screw terminal connections on secondary. Mounts in a standard 1/2" (13mm) knockout or surface mounts using provided foot mounts. Suitable for mounting in both plastic and metal back boxes. May also be used with transformer plate for enclosed mounting in a standard two gang outlet box. Primary voltage 120V AC. Available with 6V, 8V, 16V and 24V secondary voltage.