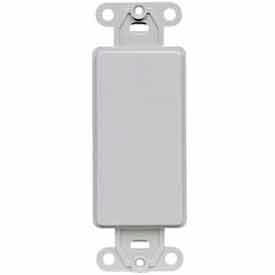 Leviton® Decora® Adapter Plates
Leviton® Decora® Adapter Plates Provide Safety And Protection For Electrical Installations And Repairs.

Leviton® Decora® Adapter Plates are made of nylon and other high quality materials for long lasting durability. Designed to provide housing for rotary dimmers and protection for empty multimedia outlets. Adapter for Rotary Dimmers fits into standard sized outlets. Multimedia Blank Insert fits into empty positions in multimedia outlet boxes to prevent exposure to dust, moisture or outside contact. UL/CSA certified. Types are Adapter For Rotary Dimmers and Multimedia Blank Insert. Available colors are Almond, Brown, Ebony, Gray, Ivory, Light Almond and White. Sizes and warranties vary per type.