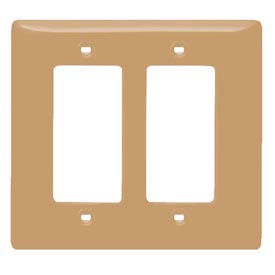 Bryant® Metallic Decorator Rectangular Wall Plates
Bryant® Rectangular Plates Offer A Wide, Open Front For Large Switches And Outlets.

Wall plates are elegant enough for the home and tough enough to withstand the most rigorous environments. Curved corners provide a smooth transition from plate to wall texture. Reinforcement ribs on rear for extra strength. Captive screws for easy installation. Brass Plates are coated to inhibit oxidation. Stainless Steel Plates are made of type 302/304 stainless steel for use in industrial and commercial applications that are exposed to highly corrosive environments. UL listed. CSA certified.