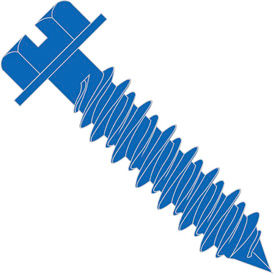 Concrete Anchors
Concrete Anchors Provide Heavy Duty Mounting Stability For Construction Sites, Masonry Jobs, and more.
Concrete anchors are designed to fasten and support concrete, brick, block, and other heavy materials. Anchors are constructed of steel and stainless steel for strength and corrosion resistance. Large, chiseled main thread and small diameter thread help to reduce head breakage and increase the holding power. Finished head design gives a low, uniform appearance for an improved aesthetic appeal. Anchors have no expansion or outward pressure that allows the screws to be installed near the edge of concrete without causing damage. Screws are purposed to reverse for easy removal.
Steel and Stainless Steel construction
Main thread and diameter thread
Finished head design
Available types are Flat, Hex, Hex Flange, Hex Washer, and Indented Hex Washer for application versatility
Drive options are Hex Nut, Phillips, Slotted, and Unslotted
Sizes range from 3/16" to 3/4"
Lengths range from 1/4" - 8"