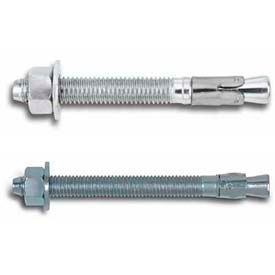 Power-Stud® Wedge Expansion Anchors
Power-Stud® Wedge Expansion Anchors Are Suitable For Normal Weight Concrete and Other Rigid Surfaces.

Wedge expansion anchors are designed for consistent performance in cracked and un-cracked concrete. Suitable base materials include structural sand-lightweight concrete and concrete over metal deck. One piece, stud style. Stainless Steel or Carbon Steel provides lasting durability. Displacement Anchors with an external bottom-bearing expansion plug also available. Dimensions vary per model.