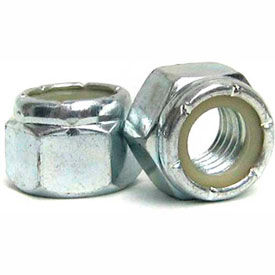 Nylon Insert Lock Nuts
Nylon Insert Lock Nuts Are Wrench or Pneumatic Tool Driven Fasteners Designed For Automotive, Machinery, Structural, and Other Related Applications.

The nylon insert on these lock nuts applies a compressive force against the screw to lock the nut in place and assist in preventing turning. Units are made of steel and stainless steel for strength, durability, and corrosion resistance. The insert deforms elastically over screw threads for a secure fit. Available finishes include 18-8 Stainless Steel, 18-8 Stainless Steel & Wax, Stainless Steel, Yellow Zinc, Zinc, and Zinc Yellow. Sizes range from #2-56 to M24 x 3.0.