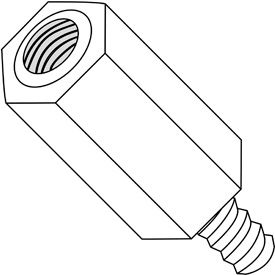 Hex Standoffs Male-Female
Hex Male Female Standoff Spacers Provide A Mechanical Separation Solution For Industrial And Hobbyist Applications.

Hex Male Female Standoff Spacers consist of wide hex nuts where one side is an interior female screw thread and the other side is an exterior male screw thread. They are wide enough to prevent two components or elements from creating friction against one another. They can be driven in by hand and tightened with a pneumatic power tool or standard hex wrench. Hex Male Female Standoff Spacers are commonly used in a wide variety of electronic hardware applications. Spacers are available in White Nylon, Aluminum, Stainless Steel, and Brass Nickel finishes, all of which feature long lasting durability. Sizes and lengths vary per model.