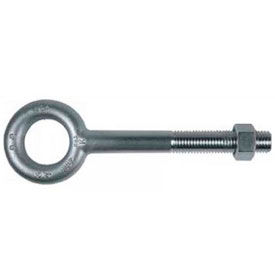 Plain Pattern Nut Eyebolts
Plain Pattern Nut Eyebolts Are Used For Applications Including Construction, Manufacturing, Industrial, And More.

Plain pattern nut eyebolts are made of steel for long lasting durability and dependability. Eyebolts are designed to attach rope or cables to surfaces. Units accommodate increased loads and heavy duty applications. Includes assembled hex nut. Rated weight capacities range from 500 to 35,000. Finishes are Hot Dip Galvanized and Passivated/Electropolished. ASTM certified. Dimensions vary per model.