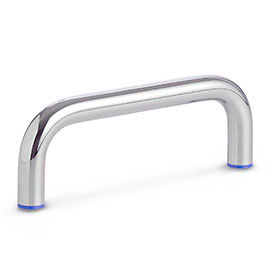 Hygenic Design Handles
Hygienic Design Handles are used in Hospitals, Laboratories, Cleanrooms, and more.

Hygienic Design Handles have sealed mounting surfaces to enable fastening without dead spaces. The high quality finish prevents adherence of dirt and facilitates cleaning. The manufacturing process (bending) allows the production of special lengths in relatively small quantities. Threads are M5 and M6. Diameters are 12mm and 16mm. Heights are 51mm and 59mm. Finishes are matte or polished. Handles are EHEDG and 3-A Sanitary Standard Inc. certified for use in hygienic areas.