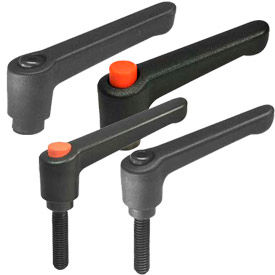 Plastic Handles w/ Steel Components
Adjustable Levers Are Used For Applications Including Manufacturing, Industrial, Construction, And More.

Adjustable hand levers are ideal whenever parts have to be clamped in a confined space or in a particular lever position. The insert is connected to the lever via serrations which can easily be disengaged. Pulling the lever upwards, disengages the serrations, allowing it to be swiveled to the ideal clamping position. When releasing the lever, the serrations automatically re-engage. Available with or without push button in tapped thread or threaded stud styles. Dimensions vary per model.