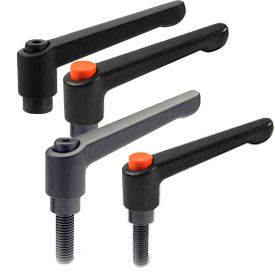 Die-Cast Handles w/ Steel Components
Zinc Die-Cast - Steel Components Are Used For Applications Including Manufacturing, Industrial, Construction, And More.

Zinc die-cast - steel components are made of steel for long lasting durability and dependability. Components are used for confined space clamping or lever positioning. Lever serrations allow convenient insert connection and disengagement. Does not accommodate applications requiring lever disassembly. Available styles include Adjustable Lever and Adjustable Lever w/ Push Button. Types are No Thread, Tapped Thread, and Threaded Stud. Colors are Black and Orange. Dimensions vary per model.