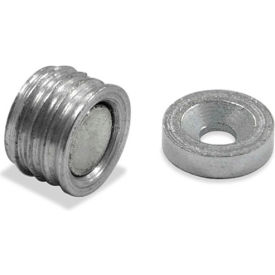 Round Neodymium Latch Magnet Kits
Round Neodymium Latch Magnet Kits Support Door Closures for Cabinets, Chests, Displays, and more.

These kits are made of magnet and steel for long lasting durability and reliable performance in material handling applications. Magnet attaches in a steel cup to one surface and the strike plate to the other to provide secure closure. Counterbore hole in provides flush mounting. Available in 5 sizes with magnetic pull strengths ranging from 2 lbs - 30 lbs. Mounting screws available. Dimensions vary per model.