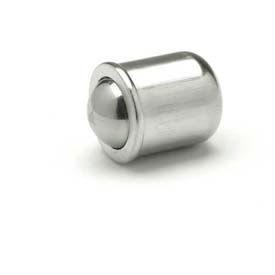 Press Fit Ball Plungers
Press Fit Ball Plungers Are Designed For Simple, Easy Installation Into Soft Materials.

Press Fit Ball Plungers are made of stainless steel for long lasting durability. Used as detents as well as for push-on/push-off applications and ejectors. Ball plungers provide ball instead of nose, and no knob. Shallow depth of ball allows for easy movement in and out of position. Type is Short Press-Fit Delrin Ball Plunger. Diameters are 0.157 in., 0.197 in., 0.236 in., 0.315 in., 0.394 in. and 0.472 in..