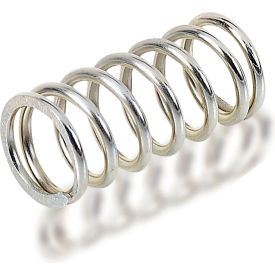 Precision Compression Springs
Precision Compression Springs Are Used In Automotive, Electronics, Medical, Commercial Goods And Industrial Markets. Precision springs are made to tighter load and dimensional tolerances and from higher standards of materials.

Precision Compression Springs are made of stainless steel or music wire to provide long lasting durability. Music Wire parts are zinc plated or stainless steel plain finish and can be cycled repeatedly. Music wire springs can operate up to 250°F. Type 302 Stainless Steel springs (AISI 302, ASTM A313) provide greater corrosion resistance and perform up to 500°F. Free length ranges from 0.25" to 3". Wire diameter ranges from 0.016" to 0.105". Outside diameter ranges from 0.12" to 0.97". Rate lbs/inc ranges from 1.043 to 250.080. End are closed and ground.