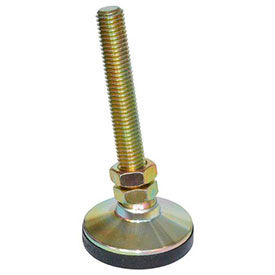 "Snap-Lock" Non-Skid Leveling Mounts
Snap-Lock Non-Skid Leveling Mounts Secure and Maintain Ground Support For Non-Skid Application Requirements.

Snap-Lock non-skid leveling mounts offer superior stability to a variety of equipment in need of secure positioning, re-positioning, or movement. Neoprene rubber offers strong impact resistance. Stainless steel construction provides lasting durability. Select mounts swivel 7 1/2° to all sides of the center line to adjust to uneven surfaces. Base height ranges from 0.69" to 38.1mm. Maximum load capacity is 5550 lbf. Specifications vary per model.