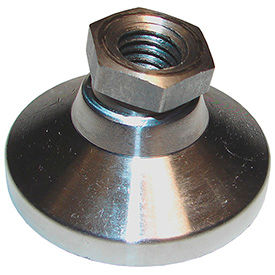 Steel Leveling Mounts
Steel Leveling Mounts Stabilize Machinery to Reduce Vibration and Noise.
Steel leveling mounts are used for machinery applications to reduce or eliminate vibrations and noise. The corrosion resistant steel remains sanitary and durable. No pockets or recesses are present which prevents dirt, moisture and bacterial growth, so they can be used for foodservice, dairy, beverage packing, medical, hospital, and dental industries.
10 degree swivel in all directions to keep machine tools, racks, assembly lines, and other equipment level
Load capacity up to 7400 lbs
Available in steel or stainless steel
Do not exceed load requirements
Hardened ball insures proper seating