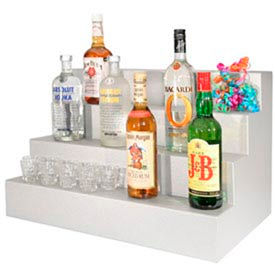 Liquor Display Risers
Liquor Display Risers Are Used In A Variety Of Catering, Food Service And Portable Bar Environments To Organize, Display And Serve Alcoholic Beverages.

Liquor Display Risers are available in a variety of sizes and styles to maintain organization and a neat appearance to any bar or restaurant. Styles include Clear or Black Plastic, Mirrored Acrylic, LED-Illuminated, Underlit and Dark Wood. Risers are available in 2, 3 or 4 step models.