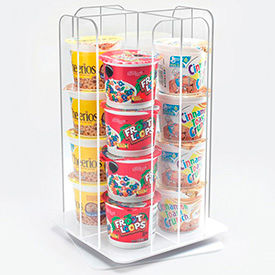 Cereal Box Dispenser
Cereal Box Dispensers Are Designed For High Traffic Display Areas And Other Foodservice Applications.

Cereal Box Dispensers are made with sturdy acrylic and wire for long lasting durability and dependability. Merchandisers fit comfortably on countertops to showcase and serve mini cereals. Dispensers hold a variety of individual size cereal boxes. Available styles include Revolving, Slanted, and Wire Dispensers. Dimensions vary per model.