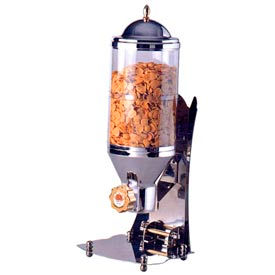 Cereal & Nut Dispensers
Cereal And Nut Dispensers Are Used For Diners, Bakeries, Restaurants, Cafeterias, Schools And Other Foodservice Applications.

Cereal And Nut Dispensers are made with a stainless steel base and clear polycarbonate cylinders for long lasting durability and visibility. Twist knobs and removable lids provide easy dispensing, refilling and cleaning. Adjustable height control up to 2-1/4 inches variance to accommodate various bowl sizes available on some models. Available dispenser styles are Single, Double, Triple, Pitcher Jug, Surface Mount and Wall Mount. Available storage capacities are 0.4, 1, 1.2, 2, 2.2 and 3 gallons.