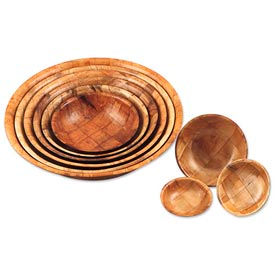 Woven Wood Bowls And Plates
Woven Wood Bowls And Plates Are Used Foodservice Dishes For Buffets, Catering, Restaurants And Other Food And Merchandise Displays.

Woven Wood Bowls and Plates are made of wood for long lasting durability. Wood bowls provide decorative display of salads, fruits, desserts, snacks and more for table and countertop presentations. Woodgrain-finished bowls made of SAN also available. Available diameters range from 5 to 20 inches. Color finishes are Black, Walnut, and Wood. Dimensions and quantities vary per model.