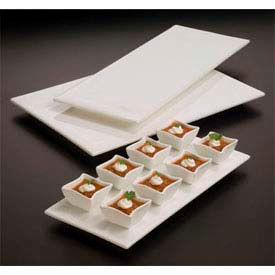 Ceramic Serving Trays
Ceramic Serving Trays Are Used For Displaying Foods At Parties Or Other Events.

Ceramic Serving Trays are made of porcelain and ceramic for added style and long lasting durability. Platters, plates and trays coordinate with other collection pieces and Ironworks™ stands. White square and round platters available with dividers and sauce cups for dips, salsas and sauces. 19 different shapes and sizes include Sushi Plates, Wavy Platter, Divided Platter and Rectangular with Curved Ends. Color is White. Package quantities vary.