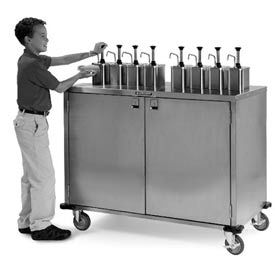 Lakeside® E-Z Serve® Condiment Carts
Lakeside® E-Z Serve® Condiment Carts Are Used For Use In Cafeterias, Sports Stadiums, Convenience Stores And More.

Carts are made with a stainless steel top and base. No electrical power, CO2 bottle or refrigeration needed. Pumps may be cleaned in place or removed for cleaning. Included connector fits all 3 gallon condiment pouches. Cart is sized to maneuver easily through doorways and down halls. Locking doors provide security. Sliding doors are located on the serving side for quick access. Interior shelf offers generous space for changing pouches, canisters, or for cleaning. 5 casters allow easy mobility. Snap-on connectors and included lift-out bins make changing bags easy.