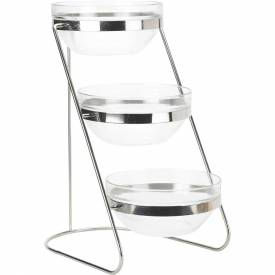 Tiered Display Stand
Tiered Display Stands Are Used For Use In Restaurants, Cafés, Cafeterias, Banquet Facilities And Other Foodservice Handling And Display Applications.

Tiered Display Stands are made of solid Stainless Steel with Glass Containers for long lasting durability and dependability. 3 Tiered Display Server features solid wire type slanted frame with three circular holders for displaying included round glass bowls. 4 Tiered Display Server features central folding pole type stand with four circular holders. Used for various foodservice handling and display applications.